Every end is a new beginning. Raising voice over maladaptions of .ee TLD reform and pushing the anti-ACTA demonstrations, Eesti Interneti Kogukond took role of Estonian chapter of Internet Society from February 2013. However communications with international offices stopped in following years and they were taken up again by Henrik Aavik, Märt Põder and Günter Kits in 2017.
Consulations with the inactive board of Eesti Interneti Kogukond and Internet Society (ISOC) reached the understanding, that the best way to continue is to cut the Gordian Knot of legal complications of former organisation and create a completely new judicial body for the local ISOC chapter. This lead to registering Internet Society Estonia (ISOC-EE) as a new NGO in October 23 2017. For the organisation one and only goal stated in statutes is to "represent Internet users of Estonia at the pursuit of their common interests in local and international level".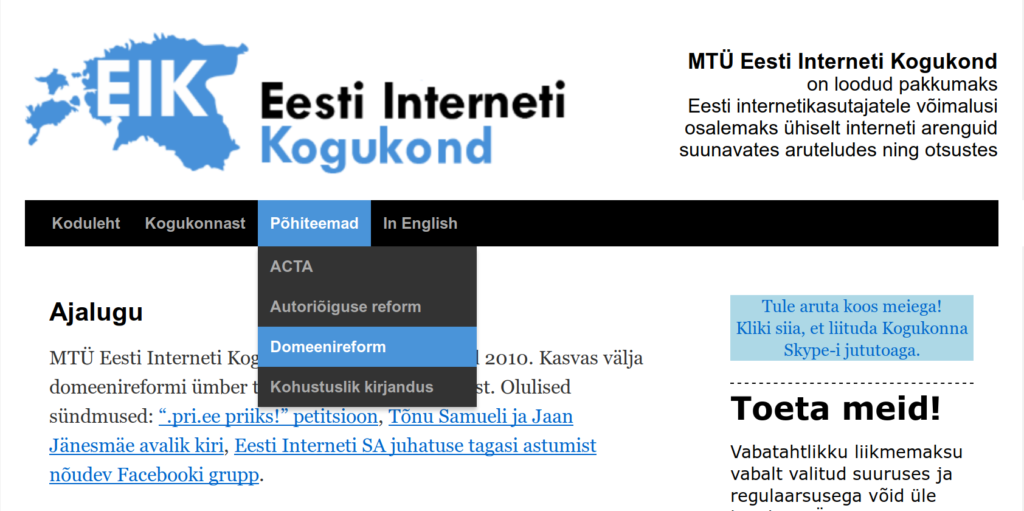 This concluded yet another phase in the history of digital communities in Estonia and with the joint approval of parties involved newly formed Internet Society Estonia took over the management of the official ISOC members list as well as communications with global ISOC offices. Currently ISOC-EE is cooperating with .ee domain registrar in organising Internet Day and hosting crypto parties as part of the event, but has also had joint projects with Wikimedia Estonia. The objective of the new organisation has been more of being a stable partner and advocacy organisation realising its main goal and refraining from setting unreachable aims that could strain people involved as has happened before.
Some essential data on ISOC-EE:
If you see that discussion on the future of Internet needs more input from you or some of your communities, become member of Internet Society Estonia, raise your topics, discuss them with other members in our open forum and together we will figure out how to make it all commit to making Internet the creative and free environment we want it to be!